Frequently Asked Questions
Tap on any question below to reveal it's answer. Tap again to collapse the answer.
Why Washington Pest Services?
Washington Pest Services is a locally owned, family oriented company dedicated to customer service. We are native to the Pacific Northwest and understand our area's unique pest issues.
Were in our 34th year of serving Washington homes and businesses. Many of our customers have been with us since our beginning in 1988. We typically schedule only 6 or 7 preventative maintenance services per technician, per day, so we can spend the time necessary to actually solve issues, and this results in a more personal, long term relationship with our customers.
Our number one source of new customers is our current customer's referrals to their friends and co-workers. We understand that each pest situation is unique, so we formulate custom service strategies accordingly; we solve issues.
In addition, we provide advance notice of our scheduled maintenance service dates and times, so that if necessary, scheduling changes can be made. Just call and our friendly staff will be happy to get you on your way to a healthy, pest free environment.
How much does Pest Service cost?
While we have some basic maintenance service plan pricing guidelines, each pest situation is unique. Insects and rodents; in fact, all living organisms, need a specie appropriate environment for survival.
If all of the conditions necessary are not met appropriately, they will move on in search of a better situation. Our service technicians are trained to identify these conducive conditions, and to recommend an effective, long term solution. We will go to your location and present options, at no cost.
Do you use environmentally friendly products?
It goes without saying that many insects and rodents have the ability to cause severe damage to us and our property. At Washington Pest Services, we know the safety of everything around us depends on us doing the right thing.
We use natural pesticides and those that offer reduced impact to the environment and reduced risk to you and your family, while providing the maximum effectiveness against pest invaders. The bigger part of today's pest management practices include Integrated Pest Management (IPM). IPM is performed in three stages: prevention, observation, and intervention.
It is an ecological approach with the goal being to reduce the use of pesticides while at the same time managing pest populations at an acceptable level. Many of the newer pesticide groups are derived from plants or naturally occurring substances (e.g.: nicotine, pyrethrum, and juvenile hormone analogues), but the active ingredient may be altered to provide increased biological activity or stability.
They are also designed to stay where they are applied with little or no runoff or translocation to non-target areas.
Is the company licensed and insured?
Yes. The Company is licensed through the Department of Agriculture as a Pesticide Applicator and each of the Service Technicians are individually licensed as Pesticide Operators.
The issuance of these licenses is only after proof of financial responsibility is offered, in this case a Liability Insurance policy, and is monitored consistently by the Department of Agriculture.
Also, as a requirement to keep each license in good standing, every technician must regularly attend training seminars or classes to earn Continuing Education Credits, which are also tracked by the Department of Agriculture so that the requirements are maintained. As you might guess, this is a highly regulated industry with changes to laws happening regularly, so we always have to educate ourselves.
Are there associations for pest control companies?
Yes there are. Washington Pest Services is a long standing member of the Washington State Pest Management Association, as well as the National Pest Management association. It is through these organizations that we receive the majority of our ongoing training, updates to laws, and updates to pesticide labeling and use changes.
Membership of these organizations is not required, but being a member gives us advantages that some of our competitors don't have available. We would always recommend using an accredited Company for your Pest Management needs. We are also members of the Washington Farm Bureau, and the Association of Washington Business.
Do you offer discounts for seniors or military?
Yes we do offer a 5% senior or military discount. Many of our customers are seniors living on fixed incomes and we certainly try to respect that. We also deeply respect our men and women in uniform whom are providing protection of our American freedom.
Do I have to leave during treatments?
Not typically. Our routine maintenance service is focused on exterior areas to prevent pests from entering. Some interior services or initial services may require you to leave for a short period, but you would be informed of that in advance so arrangements could be made.
Most of our routine service customers are not home during the service unless there are issues inside needing attention. We are fairly flexible and will make arrangements for that as well.
What other pest related services do you offer?
We can provide minor repairs to reduce pest access areas, such as crawl space vent screen repair, sealing cracks or holes in the structure, or building vertical crawlspace access doors that seal the access even if pests can get past the access well cover.
We also replace pest contaminated crawl space vapor barrier, or replace it because it's not the correct type or had never been installed. We can also perform complete crawlspace cleanouts to include contaminated subfloor insulation.
It's raining, should we reschedule my routine service?
In most instances there's no need to reschedule. Structural pest management is just that, structural. The regular treatment is inside the drip line area, to include the foundation and under the edge of the siding; under the eave areas and bird blocking; around windows and doors; and any crack & crevice areas on the structure, all areas which typically remain dry.
Additionally, the granular application we apply a couple of times a year which covers an 8-10 foot area of the ground cover around the perimeter of the structure, requires water for activation.
Are pesticides safe for children and pets?
Pesticides are chemical compounds, and as such have inherent risks associated with them. So does furniture polish, floor wax, laundry soap, etc. When used properly, all of the above pose minimal risk to us and those we care about. For example, the products we use on your structure's exterior are also labeled for interior treatment of the entire home's carpeting surface for the treatment of fleas.
Rodent baits are secured inside tamper resistant bait stations and don't allow access to children, pets, or not target pests, and really are only used in extreme situations where populations are tremendous.
Can I buy the same products in the store and do it myself?
In nearly all cases, the answer is no. Some over- the- counter products have the same active ingredients, but the formulation is usually different, or at a much lower percentage. Some of the reasoning for this is that you are not licensed to use pesticides.
To us, the label is the law, and use other than what is described in the extensive labeling for every product is punishable by law. We also have to keep on file every product used, where and how used, why used, at what rate, air temperature, wind speed at the time of application, and who applied it.
You, on the other hand, don't have to do anything the label says to do (or not to do), so products are designed to be minimally toxic to pests, and to go away fast…in case you accidentally misuse them. So, now that you're armed with your over-the-counter pesticide, what do you do with it?
Should I just kill these bugs until you can get here to take care of them?
We would prefer that you don't. There are several reasons for this. Firstly, we need to see what the pest is and where it's coming from. This helps determine what may need sealed, corrected, or what products to use, and where.
Also, some insects, such as Odorous House Ants (sugar ants) can sense chemicals of most kinds, so, if you spray them with window cleaner for example, they detect this as a danger to the colony and will "bud", or split the colony into two colonies, increase reproduction, and forage to areas they weren't already infesting; all in the name of survival.
Are your services guaranteed?
Nearly everything we do is offered with a service guarantee period. Guarantees are based on what service was done, to what extent the service was done, and what frequency.
Can you remove wildlife such as raccoons or opossums?
Not at this time. Service for these pests and others requires a Wildlife Control license through the Department of Fish and Wildlife. We are currently exploring the possibility of becoming licensed to do this, along with the structural pests we are licensed for.
Do you service lawn and plant pests?
No, the treatment of vegetation of any type requires an Ornamental Pesticide License. Some of the products we use are the same though. We can however, treat the bases of trees to a height of 12', for structure related pests. For example; Carpenter Ants nesting or foraging in or on a tree in your yard would be something we could pursue.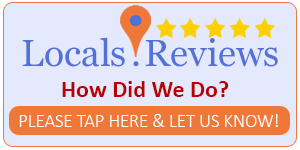 Sorry, we're closed.
See More Hours
Tuesday - 8:00AM - 5:00PM
Wednesday - 8:00AM - 5:00PM
Thursday - 8:00AM - 5:00PM